Restart TV lets you start the program you are watching from the beginning, even if it's half over! Never miss the beginning again! Channels on IPTV enabled for Restart TV are now displayed in the guide with an asterisk in front of the channel name (ex. * USAHD). 

To Restart a program:
Press the OK button on the remote while viewing a program enabled for Restart TV
You should see a menu open
Press the OK button while highlighted on the option for Restart TV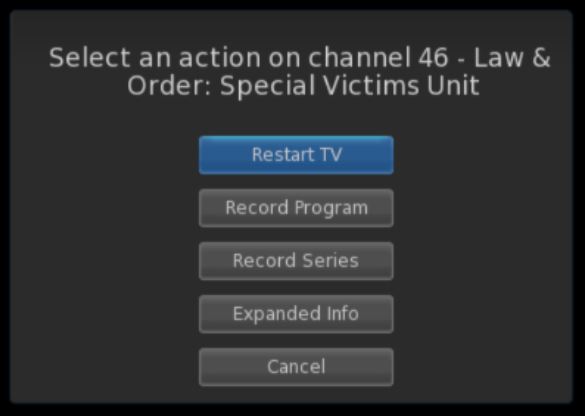 The program will now begin playing from the beginning. You'll see "Restart TV" shown in the InfoBar as in the screenshot below.

To exit the restarted program and return to Live TV:
Press the OK button on the remote
You will see a similar menu open
Press the down button to highlight "Join Live TV"
Press the OK button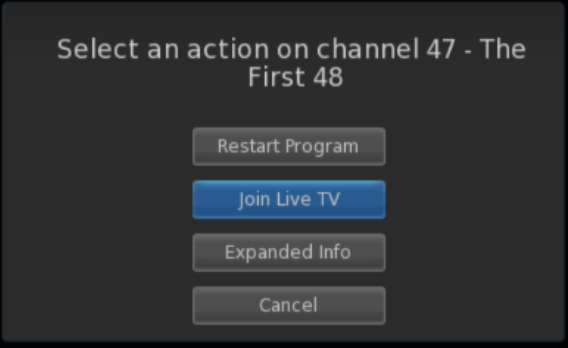 Restart TV has been enabled for the channels listed below:
A&E Network
American Heroes
Animal Planet
Black Entertainment Television
BET Jams
BET Soul
Bravo
CMT
CMT Pure Country
Consumer News & Business Channel
Comedy Central
The Cooking Channel
Destination America
Discovery Family
Disney Junior East
The Disney Channel
Disney XD
Do It Yourself Network
Discovery Life Channel
ESPN2
ESPN Classic
ESPN News
ESPN
ESPNU
Food Network
FREEFORM
Fusion HD
FYI
Great American Country
The Golf Channel
GSN
Home & Garden Television
History
Investigation Discovery
Lifetime Television
Lifetime Real Women
MSNBC
MTV
MTV Tr3's
MTV2
MTV Hits
NBC Sports Network
Nick Jr.
Nickelodeon
Nicktoons Network
The Oprah Winfrey Network
Oxygen
Science
SEC Network
SEC Network 2
Spike TV
Syfy
The Discovery Channel
TeenNick
The Learning Channel
Travel Channel
TV Land
Universal
USA Network
Velocity
VH1
VH1 Classic
VICELAND